Today's eco-friendly home designs prove that green living can be luxurious.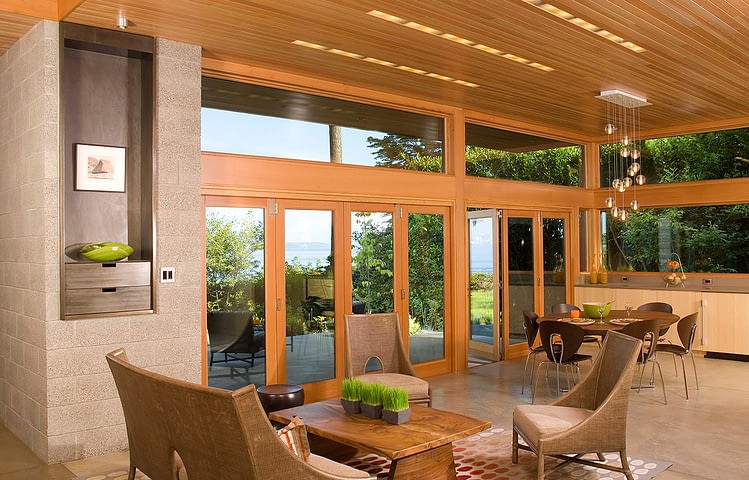 Matthew Coates, the president of Coates Design, a Seattle architectural firm, acknowledges that many people today still associate energy-efficient, eco-friendly homes with an unavoidable compromise in comfort and lifestyle. However, according to Coates, such connotations are predicated on past forays into green construction from years ago. Today, those associations are wildly inaccurate. "Today, we have such better technology and materials to use that we don't need to compromise aesthetics anymore," he says.
The proof can be found in a 2,560-square-foot home that Coates built about a year and a half ago on Washington's Bainbridge Island—a bedroom community for many Seattle-based professionals. Perched on a bluff overlooking Puget Sound and the Seattle cityscape, the home boasts a 70 percent reduction in energy consumption compared to an average North American home, which it accomplishes through the use of geothermal heat, photovoltaic energy collections, solar hot water, thermal massing, and heat-recovery technologies.
A 70 percent reduction in energy consumption
Geothermal heat and photovoltaic energy collection reduce costs for the Coates Design home.
The home is constructed around a dense concrete wall unit that spans both floors of the house. Through the use of automated skylights, that spine absorbs heat from the sun's rays and , conversely, coolness from the nighttime air. It's a system that helps to heat and cool the home in the winter and summer. During a recent storm in which the community lost power for two days, the home maintained a warm, comfortable temperature thanks to the heat that the spine had absorbed.
When the project was still in the drafting stages, Coates remembers the clients asking for a home that was as green as possible, but they didn't want the look or feel of a typical green building. And they wanted a home that could accommodate their frequent entertaining. By incorporating an office into the corner of the media room and installing sliding and bi-folding doors in other areas of the home, which transformed smaller spaces into larger gathering areas, the Coates Design team built a versatile home that complemented the owners' lifestyle and occupied a much smaller carbon footprint than would have been possible otherwise. "One of our goals working as a team is to make every space serve more than one function," Coates says. "That flexibility and building multiple uses into every space was a part of [the homeowners'] lifestyle, and the function of entertaining was a big part of it."
---
Full article found at:
Tolson, Shaun. "Green & Grand," Exceptional Properties, November/December 2011. [View PDF]